One Bedroom Luxury Apartment Rentals Downtown Fort Lauderdale
Icon Las Olas Apartments
500 East Las Olas Blvd., Fort Lauderdale, FL 33301
Phone: (954)-715-4577
Ultimate luxury apartment rentals. Downtown Fort Lauderdale, river and ocean views. Life on Las Olas never looked so good.
If you're searching for one bedroom apartment downtown in Fort Lauderdale's Las Olas area, the one bedroom luxury apartments at Icon Las Olas Apartments offer 9-foot ceilings, spacious outdoor terraces and impact-resistant windows, among other high-end amenities. The Icon one bedroom apartment offers 960 square feet of interior living space set against a gentle curve of floor-to-ceiling glass that boasts panoramic ocean and skyline views. Inside, enjoy a spacious Master Suite with walk-in closet, wraparound windows and more.
Every Icon Las Olas one bedroom luxury apartment comes fully appointed with premium appliances including a Sub Zero refrigerator and Bosch stainless steel appliances. You have never seen an apartment rental like this!, Elevated fixtures and designer finishes, all selected for superior design and functionality. Discover the most exceptional one bedroom apartments Las Olas has to offer, without the hassles and commitments of ownership.
A one-bedroom apartment rental should include a bedroom with a closet and a door that closes (along with a window), a separate living room area, at least one separate bathroom many luxury one-bedroom apartment rentals styles include an additional half-bath, usually off the living room or front hall or foyer), and, often, a separate kitchen. However, as is the case in many studio and junior one bedroom apartments, the kitchen can be open and running along one wall of the living area, particularly when the apartment is on the smaller size.
One Bedroom Luxury Apartment Rentals
Downtown Fort Lauderdale
Icon apartment rentals feature expansive living and dining areas with sleek, contemporary kitchens. Bedrooms offer opulent bathrooms and ample storage. Deep balconies are featured in most apartments.
One Bedroom Apartment Rentals – learn more
Two Bedroom Apartment Rentals with Dining Room – learn more
Three Bedroom Apartments Rentals with Dining Room – learn more
Hover over a layout of your choosing and click to explore the residence.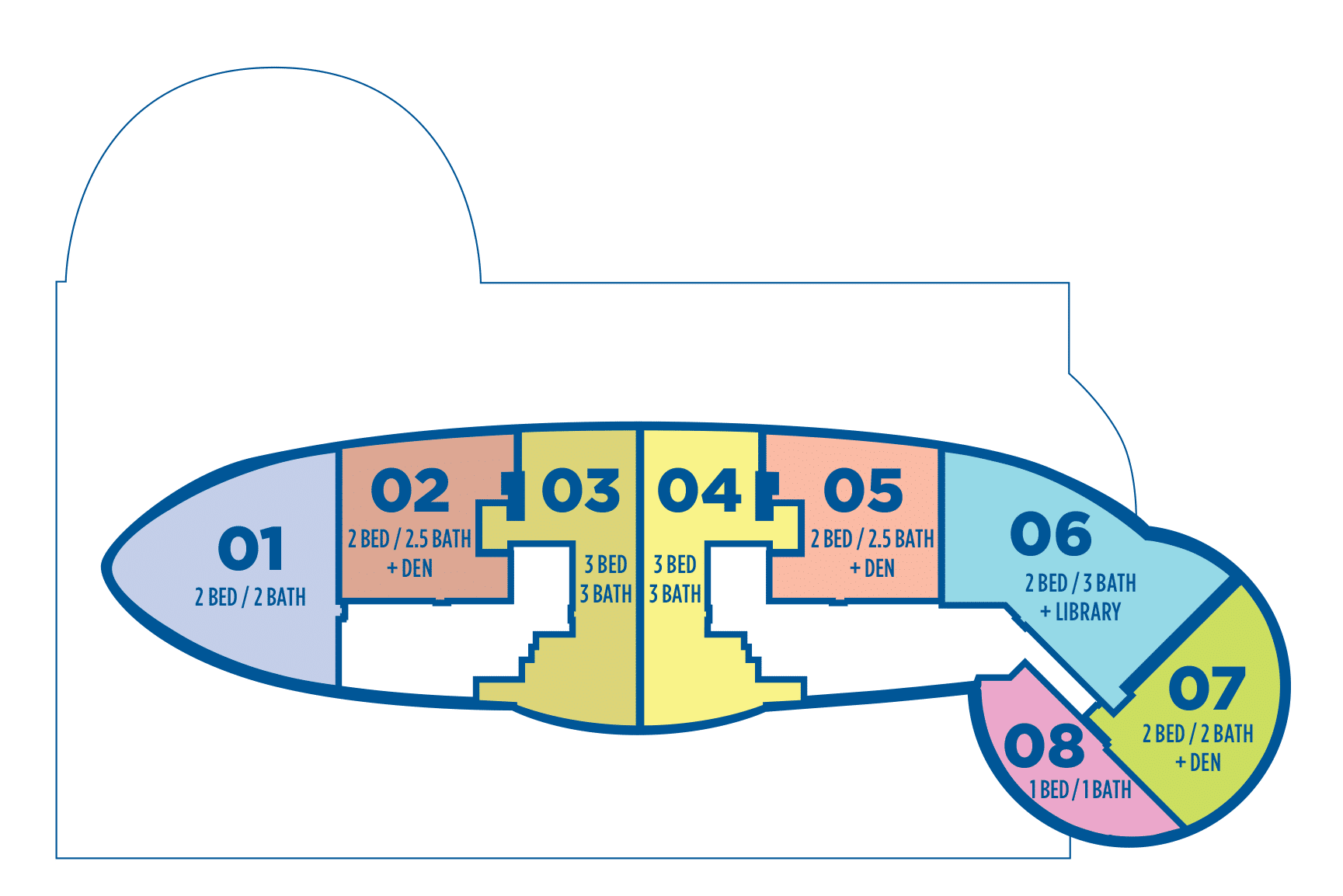 The advantages in terms of the one bedroom apartment layout versus a studio apartment floor plan are clear: even with the same square footage, the one-bedroom apartment automatically offers you more privacy, and more clearly delineates the space, making decorating a one-bedroom apartment, even one that, at first glance, appears tiny, a far simpler task. Also, if you work from home, either as a full-time job or even just occasionally at night and on weekends, it helps psychologically to have your office space–your computer and printer and files and supplies–in a separate environment from your sleeping space. Most couples and singles prefer a 1 bedroom over a studio, especially for entertaining guests, who won't have to sit on your bed in order to hang out. If you cook a lot at home, it's also nice to have the kitchen area separate from your sleeping area, so that food odors don't settle on your duvet cover. There is also less "running into each other" when maneuvering through a one bedroom as opposed to a smaller apartment, and couples find they can get a little more privacy if one of them can be, say, reading in the bedroom while the other watches TV in the living room.
Roommates sharing a one bedroom apartment is a fairly common occurrence situation, with one person getting the bedroom; the other the living area. Many couples with older children and, especially, single or divorced parents, also make full use of both rooms for sleeping, often with the adult(s) getting the "official" bedroom, and the kids making do with a futon, a pull-out couch, or a pull-down Murphy bed. In some apartments a temporary wall are often used, that divide the living area into a small living space, and a small bedroom. These room dividers are usually free standing. Most apartment communities have strict rules on modifying a one bedroom apartment but a free standing dividers works well.
#LasOlasApartments #RentalPerfection #LasOlasApartments #IconLasOlas #LasOlasLiving